EVENTS
---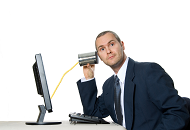 Several events allow each year to gain knowledge and to share experiences with other stakeholders on legal issues regarding the use of computing and network technologies.
These events are generally related to cybercrime, information systems security, or more generally Internet governance.
Some upcoming events:
During all the year, the ADIJ initiatives, including its workshops (Ateliers), in Paris, France;
International Forum on Cybercrime (FIC), to be held on 24-25 January 2017 in Lille, France;
Workshop "From hate speech to cyber-terrorism: Freedom of speech VS security - what regulations are possible?", 8 February 2017, Faculty of Law, Montpellier University, Montpellier, France;
The EuroDIG 2017, pan-European Dialogue on Internet Governance, to be held on 6-7 June 2017 in Tallinn, Republic of Estonia;
The JRES 2017, "Networks Days" organised by RENATER (Réseau National de télécommunications pour la Technologie, l'environnement, l'Enseignement et la Recherche) in collaboration with the University of Nantes, the University of Angers and the University of La Rochelle, 14-17 November 2017, Nantes, France.
Some past events:
You can also see the agenda, acts, presentations, repeat broadcasting or transcriptions of past events:
---