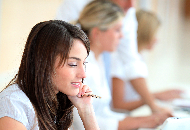 Inthemis offers several legal training modules conducted by specialised attorney-at-law or lawyers, on topics such as the legislation on personal data protection, enterprises' obligations regarding employees' privacy protection, information system security legal issues, cybercrime or enterprises' intangible assets protection (programmes coming soon).
Inthemis also offers technical training modules designed for legal professionals, dealing with questions such as the functioning of the internet and its services (P2P, email...), computer threats and basic principles to secure an information system, with a focus on their legal implications (legal qualification, electronic evidence...).
These course sessions can be held at your premises, at our facilities in Montpellier or at any suitable training venue. They can be adapted to your needs or situation, after a common analysis and definition of the course content, of the technical and educational means that have to be mobilised and of the assessment processes.
For any further information, do not hesitate to contact us.